Through the Zombie Glass (White Rabbit Chronicles #2) by Gena Showalter
Let's Talk contains spoilers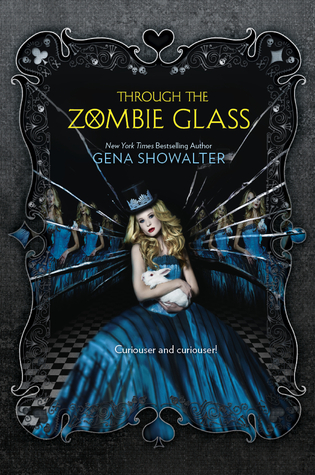 3 stars
Synopsis (Goodreads):
Zombies stalk the night. Forget blood and brains. These monsters hunger for human souls. Sadly, they've got mine...
Alice Bell has lost so much. Family. Friends. A home. She thought she had nothing else to give. She was wrong.
After a new zombie attack, strange things begin to happen to her. Mirrors come to life, and the whispers of the dead assault her ears. But the worst? A terrible darkness blooms inside her, urging her to do very wicked things.
She's never needed her team of zombie slayers more, but ultra bad-boy Cole Holland, the leader and her boyfriend, suddenly withdraws from her...from everyone. Now, with her best friend Kat at her side, Ali must kill the zombies, uncover Cole's secret and learn to fight the darkness.
But the clock is ticking...and if she fails at a single task, they're all doomed.
---------------------------------------------
The second book in the Alice in Zombieland series. I enjoyed this one, but I liked the first better. Honestly, there is so many cute couples in this series I love it. I think that it would be awesome to see their POV, too.
I would just love to see what goes on in Bronx's head.
I understand that this series isn't tied to Alice in Wonderland. It was made abundantly clear in book one. I wish that it was clear so that the author would stop making these ties to Alice in Wonderland because in all reality it makes me roll my eyes. I mean, when Z-Ali started ticking: tick-tock all I could do was roll my eyes and laugh. They are trying desperately to tie it to Alice in Wonderland.
The other big issue for me was how each book ends in a way that you could stop reading it. I mean, I want there to be at least a semblance of connection or cliffhanger. They happen to solve every problem that arises in the book by the end. This sounds good, right? But they solve every single problem. It is annoying.
Oh and when Ali became Zombie Ali and she had that whole vision with Gavin about licking his neck
was I the only one to assume that she did it under the influence? I mean, am I some genius or is everyone else too dense to think of it. I understand that as a third party and not actually witnessing it is different, but come on. Ali convinces Cole she isn't going to. But he refuses to believe her. And then stupid Veronica come in and tried to take my Ali's boyfriend (Jokes, guys! Bronx is my guy!).
And the big revelation about the glowing hands? [I thought that it was cool. But I feel like everyone is trying to get a happy ending --> Now Cole's dad can fight too? I mean, it was fine with me that he wasn't fighting. (hide spoiler)]

I thought that it was cool. But I feel like everyone is trying to get a happy ending --> Now Cole's dad can fight too? I mean, it was fine with me that he wasn't fighting.
And Ali's tattoos? I thought that was cool, but I'm so sure that the tattoo artist just allowed her to go along with it.
Can I also say finally Reeve is in on it! I felt bad for her because Ali and Kat were just kind of closing her out for too long in my opinion. All she wanted was to be included and given a real reason for why she can't be with Bronx.
And also, I have a crush on Gavin! He's just so hunky!
Anyways, the ending was kind of rushed, but still good.
They all got Zombie Ali out because of their glowing hands? O-kay... I just wished they explained this a bit more. I mean, why does it just heal people?
Rating: 6/10
Parental Rating: 13+