This is a compilation of movies I have seen in 2013 which includes the most annoying characters. Most of these movies are comedy's, some are drama's. Enjoy!
10.
John Tucker Must Die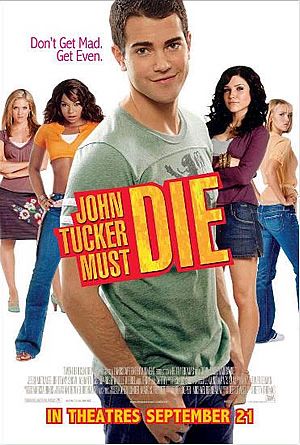 Three ex-girlfriends of a serial cheater set up their former lover to fall for the new girl in town so they can wat
ch him get his heart broken.
Actors/Actresses:
Jesse Metcalfe
,
Ashanti
,
Arielle Kebbel
Annoying Characters: Ka
te (Brittany Snow), John Tucker (Jesse Metcalfe)
Rating: PG
9.
Zombieland
A shy student trying to reach his family in Ohio, and a gun-toting tough guy trying to find the Last Twinkie and a pair of sisters trying to get to an amusement park join forces to travel across a zombie-filled America.
Actors/Actresses:
Jesse Eisenberg
,
Emma Stone
,
Woody Harrelson, Abigail Breslin
Annoying Characters: Little Rock (Abigail Breslin)
Rating: 14A
8.
What to Expect When You're Expecting
A look at love through the eyes of five interconnected couples experiencing the thrills and surprises of having a baby, and ultimately coming to understand the universal truth that no matter what you plan for, life doesn't always deliver what's expected.
Actors/Actresses:
Cameron Diaz
,
Matthew Morrison
,
J. Todd Smith
Annoying Characters: Wendy (Elizabeth Banks)
Rating: 14A
7.
Moulin Rouge
A poet falls for a beautiful courtesan whom a jealous duke covets in this stylish musical, with music drawn from familiar 20th century sources.
Actors/Actresses: Nicole Kidman, Ewan McGregor, John Leguizamo
Annoying Characters: The Duke (Richard Roxburgh)
Rating: 14A
6.
Burlesque
A small-town girl ventures to Los Angeles and finds her place in a neo-burlesque club run by a former dancer.
Actors/Actresses: Cher, Christina Aguilera, Alan Cumming
Annoying Characters: Nikki (Kristen Bell)
Rating: PG
5. Forgetting Sarah Marshall
Devastated Peter takes a Hawaii vacation in order to deal with recent break-up with his TV star girlfriend, Sarah. Little does he know Sarah's traveling to the same resort as her ex ... and she's bringing along her new boyfriend.
Actors/Actresses: Jason Segel, Mila Kunis, Kristen Bell, Paul Rudd
Annoying Characters: Sarah Marshall (Kristen Bell)
Rating: 18A
4. The Purge
In the future, a wealthy family is held hostage for harboring the target of a murderous syndicate during the Purge, a 12-hour period in which any and all crime is legalized.
Actors/Actresses: Ethan Hawke, Lena Headly, Max Burkholder
Annoying Characters: Charlie (Max Burkholder)
Rating: 14A
3.
Bad Teacher
A lazy, incompetent middle school teacher who hates her job and her students is forced to return to her job to make enough money for a boob job after her rich fiancé dumps her.
Actors/Actresses: Cameron Diaz, Justin Timberlake, Jason Segel
Annoying Characters: Elizabeth (Cameron Diaz)
Rating: 14A
2.
He's Just Not That Into You
The Baltimore-set movie of interconnecting story arcs deals with the challenges of reading or misreading human behavior.
Actors/Actresses:
Jennifer Aniston
,
Jennifer Connelly
,
Morgan Lily
Annoying Characters: Gigi (Ginnifer Goodwin)
Rating: PG
1. Cruel Intentions
Kathryn makes a bet that her step-brother, Sebastian, won't be able to bed Annette (a virgin, who wants to wait until love). If he loses, Kathryn gets his Jaguar, if he wins, he gets Kathryn.
Actors/Actresses: Sarah Michelle Gellar, Ryan Phillippi, Reese Witherspoon
Annoying Characters: Cecile (Selma Blair) and Kathryn (Sarah Michelle Gellar)
Rating: 14A or AA
Hope you enjoyed! Please comment below!