This is a list of characters that embarrassed themselves, big timer. Makes you either be embarrassed for them or are extremely glad you're not in their position. It may bring back hilarious memories. This list compiles the movies that I have seen thus far and embarrassing moments.
10. Kick-Ass
Dave Lizewski is an unnoticed high school student and comic book fan who one day decides to become a super-hero, even though he has no powers, training or meaningful reason to do so.
Actors/Actresses: Aaron-Taylor Johnson, Nicolas Cage, Chloe Grace Moretz
Embarrassing Character(s): Dave (Kick-Ass)
Most embarrassing is probably when Kick-Ass gets his ass kicked. Right in the beginning when he is attempting to be a good superhero.
Rating: 18A



A look at love through the eyes of five interconnected couples experiencing the thrills and surprises of having a baby, and ultimately coming to understand the universal truth that no matter what you plan for, life doesn't always deliver what's expected.
Actors/Actresses: Cameron Diaz, Matthew Morrison, J. Todd Smith
There isn't one embarrassing part. It is a character: Wendy (Elizabeth Banks)
Rating: 14A
8. Can't Hardly Wait
Multicharacter teenage comedy about high school graduates with different agenda of life on graduation night.
Actors/Actresses: Jennifer Love Hewitt, Ethan Embry, Charlie Korsmo
Seth Green plays the most embarrasing character while he goes around with his backpack all ready for 'love'.
Rating: PG
7. Fired Up!
The two most popular guys in high school decide to ditch football camp for cheerleader camp. For the girls and for the glory.
Actors/Actresses: Eric Christian Olsen
,
Nicholas D'Agosto
,
Sarah Roemer
This isn't even the half of it:
They went skinny dipping, and a raccoon stole their clothes. They ran around campus naked trying to get to their dorm and when the leader of this group found them, he asked them what they were doing. They explained that practicing naked helps them remember. He told them to show him and it was

embarrassing

to watch, but in the end one guy jumped on the others back.
Rating: 14A
6. Your Highness
When Prince Fabious's bride is kidnapped, he goes on a quest to rescue her... accompanied by his lazy useless brother Thadeous.
Actors/Actresses: Danny McBride, James Franco, Natalie Portman
Fabious (James Franco) is
embarrassing
. They way he is and acts
embarrass
anyone who watches. Especially with the whole weird Great Wise Wizard.
Rating: 14A
5. Just Friends
While visiting his hometown during Christmas, a man comes face-to-face with his old high school crush whom he was best friends with -- a woman whose rejection of him turned him into a ferocious womanizer.
Actors/Actresses: Ryan Reynolds, Amy Smart, Anna Faris, Chris Klein
Everything in this movie is
embarrassing
, but funny. Chris (Ryan Reynolds) and Samantha (Anna Faris) and very embarrasing throughout the movie.
Rating: 14A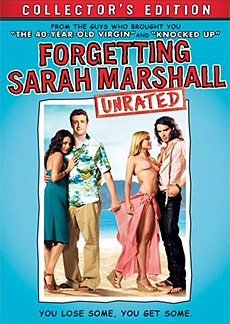 4. Forgetting Sarah Marshall
Devastated Peter takes a Hawaii vacation in order to deal with recent break-up with his TV star girlfriend, Sarah. Little does he know Sarah's traveling to the same resort as her ex ... and she's bringing along her new boyfriend.
Actors/Actresses: Jason Segel, Kristen Bell, Paul Rudd, Mila Kunis
What Peter (Jason Segel) does is
embarrassing
. Sarah (Kritsen Bell) is
embarrassing
, especially her new boyfriend, Aldous (Russell Brand). I can't pinpoint anything.
Rating: 18A
3. She's the Man
When her brother decides to ditch for a couple weeks in London, Viola heads over to his elite boarding school, disguises herself as him, and proceeds to fall for one of her soccer teammates. Little does she realize she's not the only one with romantic troubles, as she, as he, gets in the middle of a series of intermingled love affairs.
Actors/Actresses: Amanda Bynes, Laura Ramsey, Channing Tatum
To many
embarrassing
things to count. But let's just start with Viola trying to be Sebastian. Duke getting a nose bleed... If you have seen it, you know what I'm talking about.
Rating: PG
2. The 40-Year old Virgin
Goaded by his buddies, a nerdy guy who's never "done the deed" only finds the pressure mounting when he meets a single mother.
Actors/Actresses: Steve Carell, Catherine Keener, Paul Rudd
You know it is going to be
embarrassing
just because of his face. So many times where you just cringe because you know that is
embarrassing
. I can't even pinpoint.
Rating: 14A
1. There's Something About Mary
A man gets a chance to meet up with his dream girl from high school, even though his date with her back then was a complete disaster.
Actors/Actresses: Cameron Diaz, Matt Dillion, Ben Stiller
Every single man that falls for Mary (Cameron Diaz) is
embarrassing
. Start with the lengths they go to what they do to each other. Two of the most
embarrassing
scenes include: 1. Bathroom, pants, zipper; and 2. Bathroom, Ear, Hair.
I won't ruin it...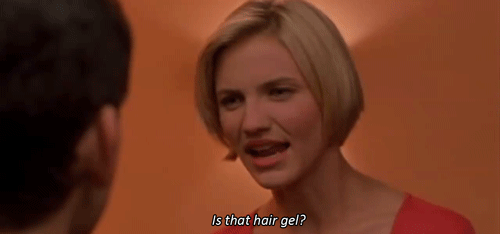 Rating: 14A