Welcome to the TV edition of the Taylor Swift book tag!
Onward!
We Are Never Ever Getting Back Together - TV show you thought you loved before realizing you didn't.
Breaking Bad
I know many of you are probably getting ready to bomb this because Breaking Bad is, what people describe as, a masterpiece. Sure, sure it is. But for me, Breaking Bad progressively went downhill. I loved the first season so much and was so excited to watch the next one. Season 2 was alright, with some memorable parts, but season 3 and 4 weren't as good. The season 3 finale was amazing, and season 4 ending was so satisfying but season 5 was slow. I'm sure it will pick up (I know, I haven't finished it yet, so many people might say that I can't put it on the list, but I don't care) but for now, this show will be one that I will always like, but not love.
Red - TV show with a red cover
Nikita Season 1
Awesome show with lots of action and the cutest couples. It is a remake of La Femme Nikita:
La Femme Nikita Season 2
Still in the middle of finishing this show, but still good.
The Best Day - TV show that makes you feel nostalgic
Malcolm in the Middle
I used to watch this show all the time with my family. If you ever watched this show, you know what I mean when it says it makes me feel nostalgic. It is the most brilliant TV comedy I have ever seen, and it is by far my favourite comedy ever. I own season 1, but alas, the other seasons aren't available on DVD.
Just looking at that picture makes me feel nostalgic.
Love Story - TV show with forbidden love
Where do I start? I have so many shows with forbidden love, it is actually really annoying... Anyways, I guess I'll have to go with:
True Blood
I chose this because I recently finished this series (and can I just say that the ending was absolutely terrible!) and wanted Bill and Sookie together. They aren't necessarily forbidden in the sense of Romeo and Juliet, but most of the people in the town disagree completely with them being together.
I Knew You Were Trouble - TV show with a bad boy you love
This is so difficult because of how many shows I watch that consist of bad boys... Honestly, this is between Dorian Grey (Penny Dreadful), Jax Tellar (Sons of Anarchy), and Richie Gecko (From Dusk Till Dawn). But being as I am in the middle of watching Sons of Anarchy, I'll chose
Jax Tellar
even though he is the best of the worst
:
Innocent - TV show that had a plot twist that was spoiled for you
Oh man, I am very good at avoiding plot twists from people, but I end up spoiling some plot twists on myself because I accidentally see it on a google search. But I am going to have to go with Ned Starks death. This destroyed me when I saw that.
How it happened:
I was looking at Sean Bean on IMDb and next thing you know, it stated that he only appeared in 11 episodes. I was so mad, but still didn't think that they would kill him the way they did.
RIP Ned Stark
Game of Thrones
*** I really hope this isn't spoiling the show for anyone...
Everything Has Changed - Major character development
Arya from Game of Thrones
Arya has come a long way from throwing food at her sister at the dinner table. She watched her father die, she has a list of those she's going to kill and she only helps her closest friends. She has become what we can only assume (for those who only watch the show) as a stone cold killer. I mean, in season 4 she left the Hound to die. This is when I realized just how far she has come.
You Belong With Me - Most anticipated season (currently)
Instead of doing one in particular, I'll show you all the shows I'm waiting for:

Outlander: Saturday April 4th
Mad Men: Sunday April 5th
Game of Thrones: Sunday April 12th
Orphan Black: Saturday April 18th
Penny Dreadful: Sunday May 3rd
Forever and Always - Favourite TV couple
Right now, it is currently
Jamie and Claire from Outlander
. This is because this is the show that I am currently watching (I have read the books). My answer changes a lot depending on my mood, what I'm watching and the season.
I never want Claire with Frank ever again.
Come Back, Be Here - Which TV show you would never lend out
I most recently bought Outlander season 1 part 1 and I think it will be a very long time before I decide to lend it out. I have read book one and two, and now I am stuck waiting for the rest of season 1.
Jamie is so hot, and waiting for the rest of season 1 is killing me!
Teardrops on my Guitar - Episode that made you cry
Mad Men Season 6 episode 13
In this episode, Don finally tells someone that he lived in a whorehouse as a child. This is when he explains why Hershey means so much to him and why he should be the one to lead the Hershey ad. When Don stops everyone (after giving an amazing speech about how his father would get him one after work) and explains that in truth, Hershey is the only thing that he had that made him feel somewhat normal. He also explained that he got it because a prostitute who befriended him would give him some money sometimes.
When I saw this, I was crying. His speech was so sad, and then how he just left the meeting after... it was so sad, but he is moving forward.
Shake it Off - Show that everyone hates, but you love
This isn't necessarily one that I love and everyone hates, but my reversed feeling.
Most people say that Mad Men has gone downhill since season 1, and that season 7 isn't as good as season 1, but for me it is the complete reverse. Season 1 was good, but the series get
so
much better as it goes on.
Stay Stay Stay - TV episode/season/series you wanted to go on forever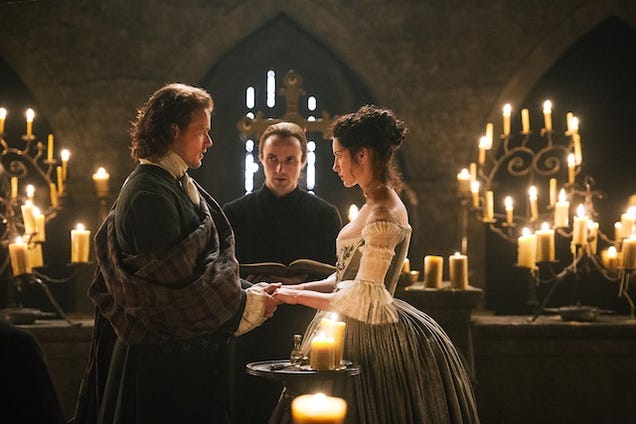 Game of Thrones.
This is my favourite show and I could have it go on forever. I would never become bored, but I would also like an ending that provides closure.
As for an episode, I wish that
The Wedding (Outlander Season 1 episode 7)
was longer. Sure, it was cute, but in the book they spent a lot of time with them married and showing how they became more than just people who married. They showed them loving each other and how much they truly know about each other now. I wish they just showed a little bit more of that in the episode.
All to Well - TV series that should have been longer
So I assume this only counts for shows that are finished?
Alright, well I guess that of many shows that have finished,
Malcolm in the Middle
could have gone on longer. It ended with 7 seasons, but even in the end, it was still going strong. The series got better as it kept going, but never ceased to bore me.
Like this list? Agree with it? Disagree?
Comment below and let me know what you think!
I tag whoever views this!