Grave Mercy by Robin LaFevers
Let's Talk contains spoilers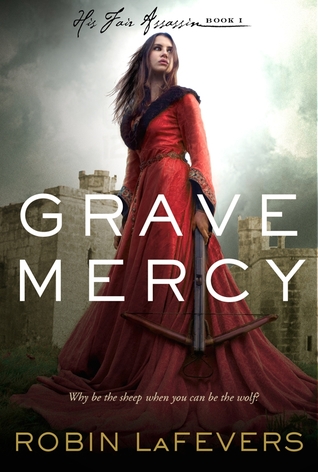 3.5 stars
Synopsis (Goodreads):
Why be the sheep, when you can be the wolf?
Seventeen-year-old Ismae escapes from the brutality of an arranged marriage into the sanctuary of the convent of St. Mortain, where the sisters still serve the gods of old. Here she learns that the god of Death Himself has blessed her with dangerous gifts—and a violent destiny. If she chooses to stay at the convent, she will be trained as an assassin and serve as a handmaiden to Death. To claim her new life, she must destroy the lives of others.
Ismae's most important assignment takes her straight into the high court of Brittany—where she finds herself woefully under prepared—not only for the deadly games of intrigue and treason, but for the impossible choices she must make. For how can she deliver Death's vengeance upon a target who, against her will, has stolen her heart?
---------------------------------------------
I bought this book a few years ago. I'd heard about it before, but never got around to reading it. Then, for book club, we were supposed to read this. I wasn't super excited, but that was mainly because of it's size.
I actually really enjoyed this book! I thought it was well thought out and it had action and excitement.
In this book we follow Ismae, a girl who was hates her father because he abused her, doesn't have a mother, and is forced to marry a repulsive man.
Instead she becomes a nun.
But not just any nun. An assassin nun.
This book has a lot of potential. And it was good.
But not great.
The girls are taught to use their feminine attributes to further themselves, how to fight, poisoning, and the like.
I love stuff like this. But the whole teaching was barley even skimmed. It literally went from her starting to learn to - two years later.
Ismae is also immune to poisons. I'd really like to know how this occurred. Either way, they never actually delve into this.
Ismae complained a lot and I always felt that I was a million steps ahead of her. So when everyone would find out that someone was a killer or that something was going on, I already knew that. So at the moments when we should be shocked, I wasn't.
I thought that there was one thing that just didn't make sense: Sybella's random appearances. She appeared about three times to Ismae when she was working and it was so random.
I assume that once I read the second book I will understand what is going on.
I really liked Annith's character (what little we got to see of her) and can't wait to read her book.
I liked Duval and Ismae's relationship. I thought it was very cute when she had to wear feminine clothes and stood at the top of the stairs and there he was at the bottom. He stopped to look at her. I thought it was one of those moments are girl just dreams of.
There were some great scenes where she got to assassinate people, but that was few and far between. A lot of this book was surrounded by politics of the country and saving them. It also dealt with the queen, Anne, having to chose a husband. Once again, more politics. The ending was very predictable, but I still want to read the rest of the series.
I also want to comment on the authors historical detail. It's great! I like the mix of fantasy and historical fiction!
I want to know what happens to the rest of the characters.
Rating: 6.5/10
Parental Rating: 13+
Hope you enjoyed! Let me know what you thought of the book!