The Heir (The Selection #4) by Kiera Cass
Let's Talk contains spoilers
SPOILER-FREE REVIEW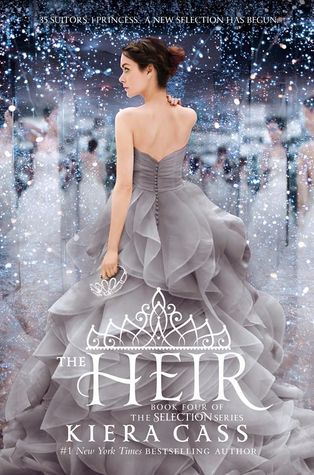 3 stars
Synopsis (Goodreads):
Princess Eadlyn has grown up hearing endless stories about how her mother and father met. Twenty years ago, America Singer entered the Selection and won the heart of Prince Maxon—and they lived happily ever after. Eadlyn has always found their fairy-tale story romantic, but she has no interest in trying to repeat it. If it were up to her, she'd put off marriage for as long as possible.
But a princess's life is never entirely her own, and Eadlyn can't escape her very own Selection—no matter how fervently she protests.
Eadlyn doesn't expect her story to end in romance. But as the competition begins, one entry may just capture Eadlyn's heart, showing her all the possibilities that lie in front of her . . . and proving that finding her own happily ever after isn't as impossible as she's always thought.
---------------------------------------------
Update: So yes, I was and still am excited for this book, but why about their kid? Doesn't this book just spoil what is going to happen in book 1-3?
It is just weird.
So I read this book with very, very high expectations. It didn't really meet what I wanted. It really didn't help that the character was annoying. But I am very amazed and happy that for once it isn't a character that the reader is made to love. Eadlyn is not a likable person. I think this is done on purpose. Eadlyn doesn't want to do the Selection. She doesn't want to downgrade herself and be a woman who needs a man. She thinks she will be able to run everything without a man.
But come on, who doesn't want 35 men at your beck and call? I know everyone thinks she's crazy for not wanting that, but she seriously wants to do everything herself.
I know, it's great to see a girl who doesn't need a guy.
But she seriously needs a guy.
She is constantly wound up. I'm not sure if she was bullied as a kid or if she is seriously sexually frustrated, but she needs someone in her life.
There were guys in the Selection that I liked a lot. Here are a few (in order of who I like the most [1] and who I'm not a huge fan of):
1) Ahern
I know he isn't actually an option, but I really liked him. I loved his love interest and how kind she was. It would be interesting to read a book from her POV.
2) Kile and Hale
I know it sounds lame, but I just really like his character. I wish that instead of Eadlyn getting him (she definitely doesn't deserve him) I should.
As for Hale, I just like that he is trying to make himself memorable. But he has to focus on being more himself.
Kile:
Hale:
3) Erik and Henri
I have a feeling she's going to end up with Eric even though he isn't actually in the Selection. This annoys me greatly.
Erik:
Henri:
4) Fox
Mainly just like the name. :D
Anyways, so I honestly have no idea who she's going to end up with. In The Selection it was obvious (with the main character), but I have no idea!
So I can't wait to figure out who it's going to be.
I hope Eadlyn will realize that she needs someone, not to run the country, but to have at her side the way her parents are.
I loved the scene when they played baseball and I also like the part when they cooked together.
But Eadlyn wasn't a character that I enjoyed reading because she was so obsessed with coming off as strong to everyone that she was being mean. I don't understand how America and Maxon raised someone so rude.
I think that Eadlyn got a lot of big reality checks in this book. I hope that she will realize that the world most definitely does not revolve around her.
Rating: 6/10
Parental Rating: 13+
View all my reviews