Burn for Burn trilogy by Jenny Han and Siobhan Vivian
Let's Talk contains spoilers.
BURN FOR BURN
5 stars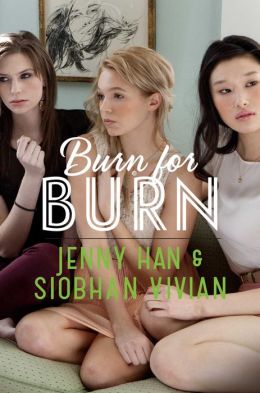 This book was so, so, so good!
Goodreads synopsis:
Postcard-perfect Jar Island is home to charming tourist shops, pristine beaches, amazing oceanfront homes—and three girls secretly plotting revenge.

KAT is sick and tired of being bullied by her former best friend.

LILLIA has always looked out for her little sister, so when she discovers that one of her guy friends has been secretly hooking up with her, she's going to put a stop to it.

MARY is perpetually haunted by a traumatic event from years past, and the boy who's responsible has yet to get what's coming to him.

None of the girls can act on their revenge fantasies alone without being suspected. But together…anything is possible.

With an alliance in place, there will be no more "I wish I'd said…" or "If I could go back and do things differently..." These girls will show Jar Island that revenge is a dish best enjoyed together.
---------------------------------------------
But I will just go on for this review.
So, the characters were amazing! Let's look at each separately, shall we?
Mary: She was strange, but her story was so sad. I realized that her and I think very much alike with her. She and I seem very similar because I am bad in crowds, shy, but very determined in my mind.
Kat: Easily, the best character! I want a friend like her, I want her to be my friend. She is funny, risky, awesome and made some iffy decisions, but I still found myself wishing to be more like her: confident and funny. I wish there was more chapters from her POV.
Lillia: She was awesome, too! I thought that what she did (you know if you read it), she had reason to do so. She is very smart and I felt so bad for her because so many things happened that just sucked for her.
The minor characters really made the book:
Pat, Reeve, Renee, Alex and Mary's Aunt.
I will talk more about them because I am trying to avoid spoilers.
The storyline was absolutely fantastic.
I love the idea of backstabbing and fighting against each other.
The things they did to get back at others...
And the romance...
It made me swoon!
Couples I wanted together:
Pat and Lillia (the cereal scene!); Reeve and Mary (Come on, who else thought so?); Alex and Kat (did not one else feel that?!)
[ Pat and Lillia (the cereal scene!); Reeve and Mary (Come on, who else thought so?); Alex and Kat (did not one else feel that?!) (hide spoiler)]
Comment below and tell me what you think!!
Rating: 10/10
Parental Rating: 15+
FIRE WITH FIRE
3 stars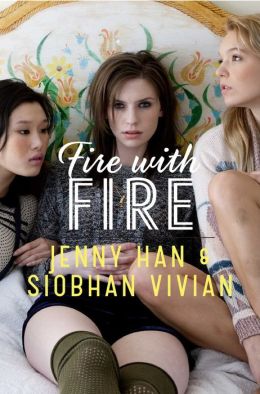 Goodreads Synopsis:
Lillia, Kat, and Mary had the perfect plan. Work together in secret to take down the people who wronged them. But things didn't exactly go the way they'd hoped at the Homecoming Dance.

Not even close.

For now, it looks like they got away with it. All they have to do is move on and pick up the pieces, forget there ever was a pact. But it's not easy, not when Reeve is still a total jerk and Rennie's meaner than she ever was before.

And then there's sweet little Mary…she knows there's something seriously wrong with her. If she can't control her anger, she's sure that someone will get hurt even worse than Reeve was. Mary understands now that it's not just that Reeve bullied her—it's that he made her love him.

Eye for an eye, tooth for a tooth, burn for a burn. A broken heart for a broken heart. The girls are up to the task. They'll make Reeve fall in love with Lillia and then they will crush him. It's the only way he'll learn.

It seems once a fire is lit, the only thing you can do is let it burn...
------------------------------------------------------------
I loved Burn for Burn ALOT!
So I had really high expectations for this book. It wasn't as good as I thought it was going to be, but it was still entertaining enough to keep my attention.
First, let me say how thankful I am that this book was long because I get through books too fast.
So, a lot happened in this book. You figure out that huge secret about Mary (Which I guessed by the way :D).
It seems that Kat, Lillia and Mary just didn't learn from their mistakes in the first book, so they are going to continue to take revenge against those who have wronged them.
But I love it!
This book was great, I loved the scenes and what happened in the book.
Can I also say that the covers are gorgeous!
So, the characters are putting themselves back into danger.
In this book, Lillia breaks things off with Reeve and Mary actually speaks to Reeve.
And the ending! I just couldn't believe that Rennie died! And the bright light?! Just proves my theory that Mary was a ghost!
[I just couldn't believe that Rennie died! And the bright light?! Just proves my theory that Mary was a ghost! (hide spoiler)]
So, things are getting harder than ever for the girls. They continue their friendship secretly, but continue to wreck havoc at Rennie's New Years Eve party. But this time, things aren't just going to end with an injury...
I liked that we got to see Rennie's nice side in this book. Even though when she was being nice, she was trying to prove Lillia guilty. But Kat was a true friend.
How funny is it that everyone's role's reversed, even just in the second book?
Kat, who everyone probably assumed was going to end up being a junkie who didn't care about her friends, ends up being the one that holds everyone together.
Mary, who seemed harmless shows just how dangerous she can really be.
Lillia backs out of the pact by being with Reeve.
Couples that I
STILL
want together:
Lillia and Pat: Come on, who else didn't see something between them from the flashbacks to the cereal scene?
Kat and Alex: Does this even need to be explained?
Mary and Reeve: I just wish Reeve knew what was going on in the corn maze.
By the way, the corn maze was the best scene ever! It was fun, interesting and reminded me of the times I have been to the corn maze, which I love!
So, now I wait for the next book...
Rating: 7/10
Parental Rating: 15+
ASHES TO ASHES
2.5 stars
Goodreads Synopsis:
New Year's Eve ended with a bang and Mary, Kat and Lillia may not be prepared for what is to come.
After Rennie's death, Kat and Lillia try to put the pieces together of what happened to her. They both blame themselves. If Lillia hadn't left with Reeve... If Kat had only stayed with Rennie... Things could have been different. Now they will never be the same.
Only Mary knows the truth about that night. About what she is. She also knows the truth about Lillia and Reeve falling in love, about Reeve being happy when all he deserves is misery, just like the misery he caused her. Now their childish attempts at revenge are a thing of the past and Mary is out for blood. Will she leave anything in her wake or will all that remain be ashes?
---------------------------------------------------------
Quick review:
Just because it has 2.5 doesn't mean it's a bad book. Just not the best in the series. I actually would highly recommend this series to anyone. The characters have so much depth and you get to see the POV of so many different characters and the development is just amazing! It also has some mystery!
It's so sad that it's over. I hate when book series go downhill. It's like watching your favourite movie, but then they decide to do a sequel. But the sequel has bad actors and a low budget. It just makes everyone sad.
It's the end. It makes me so sad because I've had such good times with this series. Time to say good-bye to Kat, Lillia and Mary.
Just to let you all know, spoilers are below. I will let you know when they come up!
Is it just me, or would this make an awesome TV show?
So that big twist at the end of book 2?! That was intense, but I did guess it. I had a hard time believing it though, because this is a contemporary book after all. But I have to hand it to Jenny and Siobhan: awesome series!
But who else was bummed with the ending? It sucked! It wrapped up everything, and it made me so mad! By the end of the book, I was doing this:
Ugh! It was so frustrating!
SPOILER TERRITORY!
Mary is a ghost. Alright. That's a lot to take in.
But in this book, she was really serious. As in, she was trying to kill Reeve.
Next thing, Renee is dead!
And Kat is trying to get into university. And Alex is helping her all the way. It's so romantic. I just love them together!
Lillia still has a thing going with Reeve.
Actually, earlier, Kat and Lillia have a sleepover with Mary. At said sleepover, Reeve shows up and Lillia breaks up with him. Little does he know that the girls were there. Lillia didn't want to because she had fallen in love with him. Ugh, Lillia can be so annoying!
Then Kat and Mary left and made fun of Reeve the whole way.
Then we get back to Lillia's point of view. She wants to go get Reeve back.
I am so fed up with Lillia!
What Reeve has done just kills me. But a small part of me wants him with Mary. I think they would be great together.
And Alex and Kat (let's be real, who
wasn't
supporting this?)
The ending of this book just left me sad. What an ending.
And not the good kind.
SERIOUS SPOILERS! (as in the very end)
So Lillia ended up with Alex?
And Kat didn't get anyone?
And Mary moved on?
It's
not
that I'm not happy.
Seriously?! Excuse me while I go put my emotionally ill self back together after this ending.
This series started out so good! It had so much potential and it was written so well!
I just loved the idea of revenge. It makes me try to go find a book about revenge, but let's once again get real.
There is none like Burn for Burn.
R.I.P. Mary - You are missed
R.I.P. Burn for Burn trilogy - You are
more
missed
Rating: 6.5/10
Parental Rating: 15+
I hope you liked this overview of all three books! Comment below and let me know what you thought of the series, who your favourite girl was, and who you were hoping would end up together!